TRIO







photo: Takumi Ota
A unique furniture with with three legs, derived from the image of obi, Japanese belts, connected to a flat board.
Blending in with the everyday scene of life, TRIO was created through a simple process to employ only one material in one manufacturing method.
The unique charcteristics of carbon fiber, with its high tensile strength and elasticity, allowed us to twist the legs as if it were a belt, creating the beautiful form whilst taking advantage of its lightness.
At one glance, TRIO may seem mechanic, however, it is actually manufactured with careful detail, through the process of composite laminating in creating the desired shape with the hands of a craftman, as if it were a piece of traditional applied art. TRIO can be used as a stool or a small table.
MILE
mileproject.jp



Design project MILE is formed by acoustic engineer, Bandai Matsuo, software engineer, Kentaro Kai and interior designer, Kozo Shimoyama. As like the proverb, "Three heads are better than one" (the Chinese character for "MILE" can be read as "san" meaning three in Japanese), the trio are expanding their design activities, fully utilising each member's specialty. Incorporating humor-filled storytelling in their ideas and design, they create products that plesantly link people, objects and space. In Milan Salone 2009, the trio has been selected as one of the aspiring 24 groups of young talents by ELLE DECO from various countries.
Materials
Carbon fiber UD / Matt finish
Weight
1,150 g (2.5 lbs)
Dimensions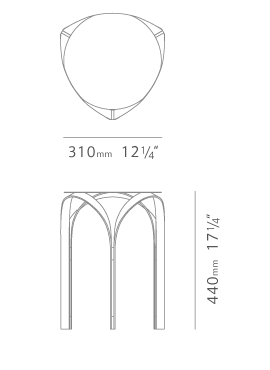 Manufacturer
Ibaraki Industrial Corporation